Free Tax Return Preparation Through VITA
---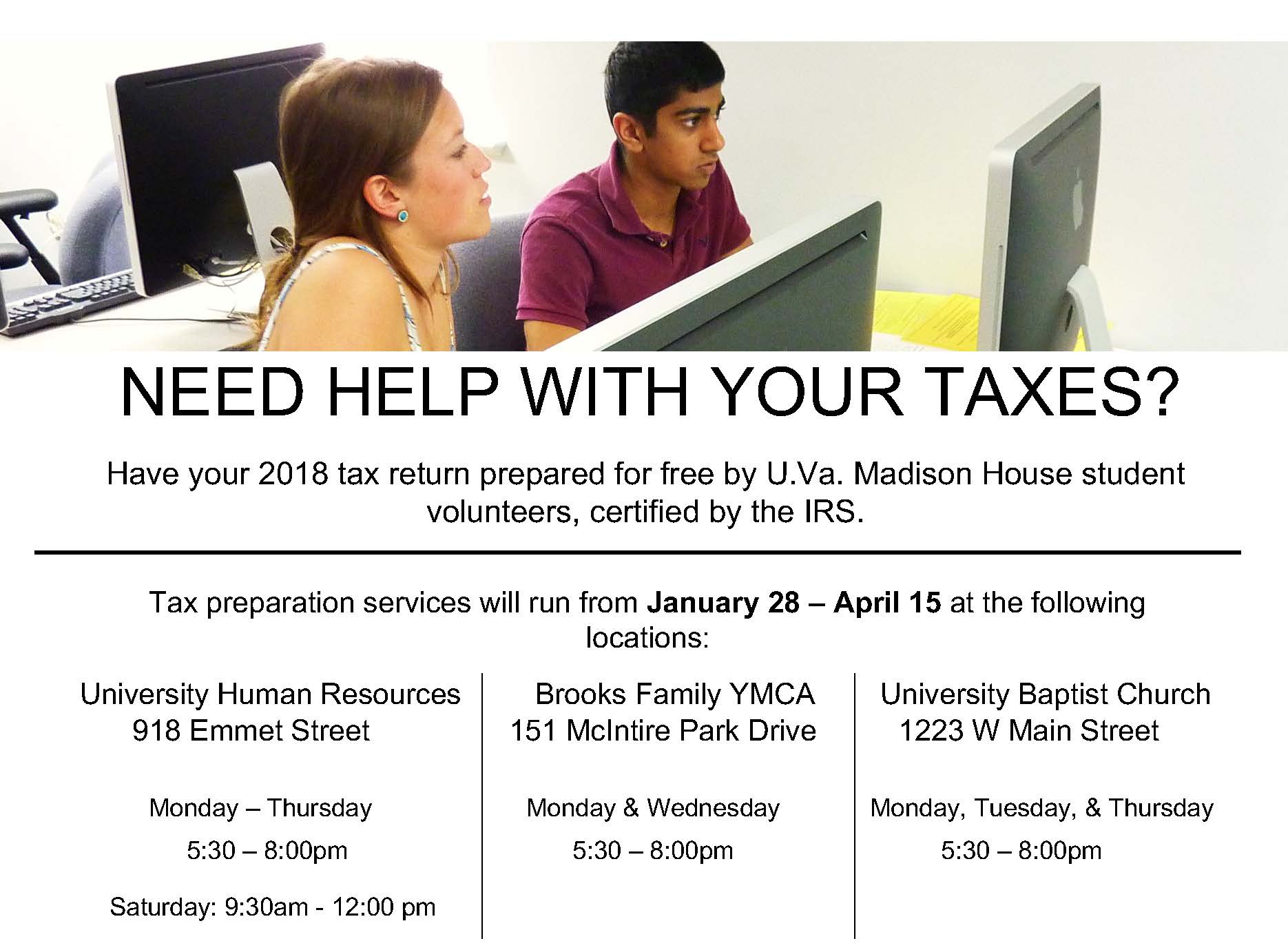 UVA Human Resources is partnering with the United Way to offer free tax return preparation for Academic and Health System employees and team members who earn $55,000 a year or less and meet certain requirements. Last year, we prepared and electronically filed 1,850 returns. This year, let us help you!
Who is Eligible?
All UVA employees (including wage, part-time, and Medical Center), who:
Earn $55,000 or less annually, including spouse's income
Do not have rental income
Are U.S. citizens or permanent residents
UVA Madison House volunteers, certified and trained by the IRS as part of the federal Volunteer Income Tax Assistance program (VITA), will be helping employees in these three locations:
Human Resources building: 918 Emmet Street
Brooks Family YMCA: 151 McIntire Park Drive
University Baptist Church: 1223 W Main Street
Scheduling an Appointment
Between January 28 and April 15, appointments will be available:
Monday - Thursday evenings, 5:30 - 8:00 p.m.
Saturdays, 9:30 a.m. - 12:00 p.m.
Please note that no appointments are available from March 9 - 16 due to UVA Spring Break.
Appointments may be scheduled online at www.cvilletaxaid.org.
What to Bring to the Appointment:
Government-issued photo ID
Valid Social Security cards for the taxpayer, spouse, and all dependents
Wages and earning statements: W-2s, W-2G, 1099-R, 1099-Misc from all employers and unemployment compensation
Interest and dividend statements from banks (Form 1099)
Health Insurance Statements (Forms 1095-A, 1095-B, and/or 1095-C)]
Health insurance Exemption Certificate, if received
Daycare expenses paid in 2018 and the daycare provider's name, address, and tax identifying number
Proof of bank account routing and account numbers (such as a blank check) for direct deposit of refund
Copy of 2017 Federal/State returns, if available
For questions please contact the United Way Information and Referral Center: 434.972.1703.