New Hires Win with Recent Improvements to Grounds for Success
---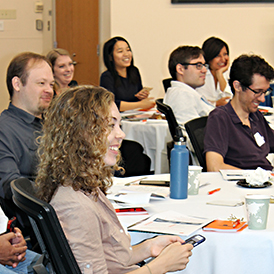 The UVA HR Orientation Team is excited to announce a "new and improved" Grounds for Success ("GFS") academic orientation program.
These changes reflect what employees and managers have said would be most valuable and helpful for new hires to experience in an orientation session. The Orientation Team solicited feedback, analyzed post-orientation surveys, and hosted four focus groups with managers, HRBPs, and staff representing a broad array of departments across the UVA Academic Division.
Through presentations and engaging activities, Grounds for Success orientation attendees will learn about:
UVA's leadership, structure, mission, and Strategic Plan
UVA culture, the employee experience, and the student experience
Technology and Workday basics
Employee Perks and Resources
Next steps, including ID Badges, Parking and Transportation and Required Trainings
Benefit and Retirement plan options
Employees will receive:
An orientation guide, which includes an Employee Checklist and links to resources, additional training, and more
A benefits and retirement packet
Coupons for free lunch, tickets to an Athletics event, trial membership at IM-Rec, and a discount to the bookstore
On select dates, we will now offer two optional and complimentary activities in the afternoon:
A lunch at Newcomb Hall dining facility
A guided historic walking tour
Please see the "Optional Activities" section in our Grounds for Success website for details on the dates optional activities will be offered, and logistics regarding time, parking, and more.
Grounds for Success has been shaped to assure each new hire of their value in the organization; introduce him or her to UVA's culture of integrity, mutual respect, excellence, and innovation; foster lifelong learning; and promote a strong partnership with the Charlottesville area.
The Orientation Team encourages all new hires to attend a Grounds for Success orientation session, and also welcomes all other employees to experience a session, whether you've been here for two months or twenty years!
If you have any questions, please visit the Grounds for Success webpage, or contact Rachel Parsley at 434-924-3645 or rbp9h@virginia.edu.