The Durrer Family Thrives on Serving UVA
---
Charlie Durrer (in photo above, middle) has served the University of Virginia for 40 years as a Senior Construction Manager for the Capital Construction and Renovation Department of Facilities Management (FM). Both of his sons, Travis (right) and Hunter (left), also work at UVA, Travis for 25 years and Hunter for 7 years. This story honors and celebrates their over 70 years of combined service, but also explores the story of having a family working at UVA.
Tell us a little about yourselves - the work you do, but also WHY you do it and what you LOVE about it.
Charlie Durrer: My position manages the daily construction of new and renovated buildings at UVA. Working with people and the interaction of many diverse situations over the years has been great. I've made many friends with workers throughout the years at facilities and other departments. I have met hundreds of contractors and respect the talent they bring to our projects. It's a great feeling to see a project completed, to see students and faculty and think of future generations utilizing the buildings or projects for years to come.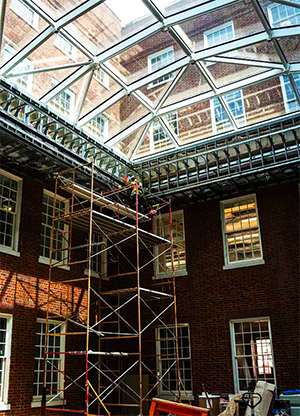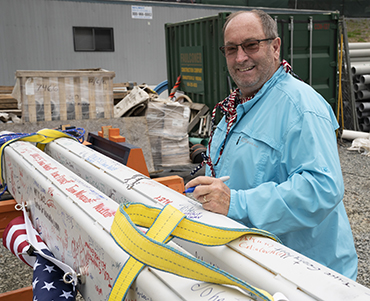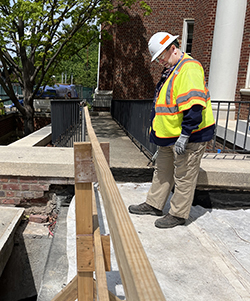 I am currently working on the Alderman Library renovation that is slated to open January 2024. It's been great to be involved with the removal of the old gloomy' Stacks and replace the area with more light and state-of-the-art equipment. The A team working from Capital Construction and Renovation (CCR) at Alderman has overcome many challenging issues over the course of the last four years and bonded as a comprehensive team, which has made it has easier on each individual. Another great benefit of this project has been reducing the energy footprint.
Travis Durrer: I work in fire protection at Facilities Management as a Fire and Safety Equipment Inspector, having previously worked at UVA Athletics for 23 years. I take great pleasure in the people I work with and the many places I get to see on a daily basis during my work. I consider it a huge priority to visit new buildings and find missing fire extinguishers. Fire extinguishers can save student, faculty, and employee lives in the future.
Hunter Durrer: I am a Construction Administration Manager for Facilities Management in the CCR Department. The team I work on provides project and construction management for non-capital and capital projects. I primarily work on Health System and Utilities Infrastructure projects. As Construction Administration Manager, I oversee a project throughout design, code review, and construction. I work at UVA for the endless opportunities; UVA is like a city that continues to grow. I like being a part of the growth and advances in academics, health care, and research.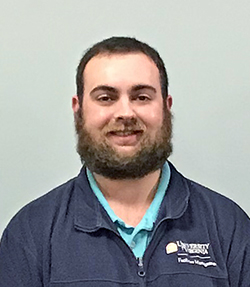 I have the opportunity to work on very cool, advanced projects that help the University reach its sustainability and health care goals. Each day is a new challenge and my knowledge is growing every day with the different types of projects we work on. When the project is over, I get to reflect on what a space once was and what it is now with updated systems and technology.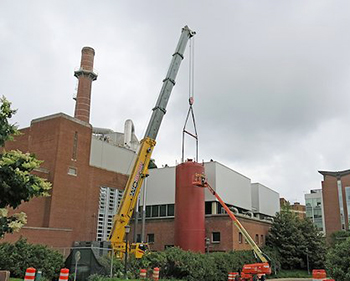 Recently, I was on the project team that installed a new heat recovery chiller and a 55,000-gallon thermal storage tank. This project was performed to support UVA's sustainability goals of becoming carbon neutral by 2030, and fossil fuel free by 2050. This project was not only an accomplishment because it has an impact on reaching the University's sustainability goals, but it is a new heat recovery chiller, which will be one of the only systems of its kind in the world.
What are some of the challenges you've identified in your work, and how do you or your team address them?
Charlie: Every project has its own challenge. There were many learning experiences that I will carry forth the rest of my life. When challenges come up, I always say, "Listen to all ideas and work as a team to move forward." There were many times when I thought we were going one step back, then we came together and moved two steps forward.
Hunter: In my field we have a lot of risk and managing those risks can be difficult. One of our major responsibilities is to identify potential risk and provide mitigation plans and solutions for the associated risk. Some of our more common risks include cost, duration, and market conditions/supply chain. The earlier we can identify the risk, the more we can increase the opportunity to have a plan in place, to react and adjust for unforeseen circumstances.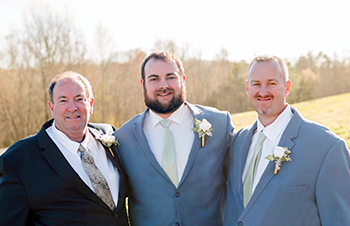 I work in a very fast environment on multiple projects at once, and handling the workload can be difficult. Each project typically is at a different stage with different customers, and keeping track of where we are in a project and figuring out the tasks that take priority can be challenging, and communicating the challenges is vitally important. 
Travis: UVA is continually building, so it's sometimes a challenge for me as I go into new areas and have to learn about each of the new buildings on Grounds.
What's it like to have your family members working at UVA?
Charlie: Both my sons work in Facilities Management, and I occasionally interact with them. Travis managed the maintenance of and replacement of fire extinguishers for the Project Manager at the Alderman project, so we got to see each other a little bit during that time. They know I am always there to support them with my 40 plus years' experience. My niece has worked at UVA for 25 years, and her husband is also an employee. I enjoy helping them and other employees navigate the working environment that is the University of Virginia.
Hunter: We all work in different areas of FM. Some years ago, there was one project Charlie was working on at IRC (International Residential College) that I worked on. I was on a team in FM landscaping that was responsible for grading and seeding the front lawn of the resident hall. That is about the only time I can think of working on the same project. I see Travis typically once or twice a month in different buildings performing his fire safety inspections or installing new equipment.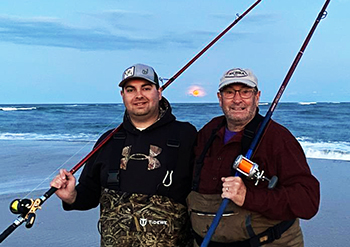 What do you and your family do when not working at UVA?
Charlie: I am an avid Outdoorsman, enjoying sports, hunting, and catch and release fishing. My wife Cathy says, "If you're not at work, you can be found in the woods, on a lake, or surf fishing at the beach!" That is a must for relaxation and a great way to recharge before heading back to work for the next big project at UVA! I'm pictured to the left with my son Hunter after a wonderful day of surf fishing.
Travis: I love to hunt, fish (I'm pictured below with a fish beauty), and I love to travel. I've been blessed with making some amazing friends around the world.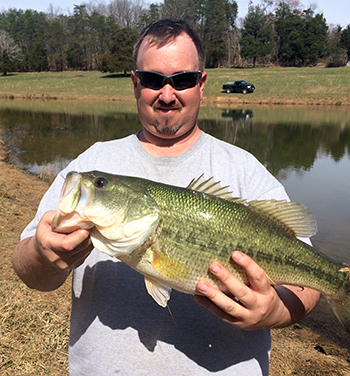 What are some takeaways you'd love your UVA colleagues to know about you?
Hunter: Feel free to come up and talk with me whenever you see me at UVA or outside of UVA. Working at UVA is a learning opportunity and each day, try to learn something new. Not only will it benefit your professional position, but you can also take that knowledge and share it with friends, family, and the community outside of UVA. 
Charlie: Like for my boys and my relatives at UVA, I am always there for my FM colleagues though the good times and difficult times. I love to see the younger employees advance though the system and am always there to help them though instruction and challenges. If you have other family members working at UVA, let them do their own thing and do not put too much pressure on them, as they are their own individual.