Dual Career Partners Are an Asset to our Community!
---
Each year, hundreds of professionals relocate to the Charlottesville area to further their careers. Many of these individuals relocate with spouses and partners who are also seeking to identify their next opportunity here.
We caught up with Heather Newton, Dual Career Program Specialist, to learn more about her role in contributing to UVA's success. Here's what we learned.
Please tell us about yourself and the Dual Career Program.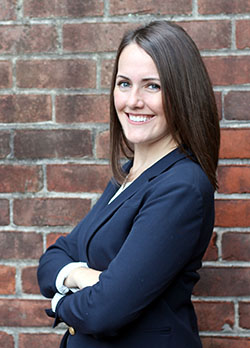 As a member of the Dual Career Program (DCP) team, I help spouses and partners of current and prospective UVA hires find exciting job opportunities in the Charlottesville area. 
I also run the Embark website, a resource that connects highly skilled talent with local employers, highlighting connection, career, and community opportunities. Embark's goals are consistent with President Jim Ryan's mission for the University to serve as a good neighbor to the greater Charlottesville region and the Commonwealth. 
Prior to my work with DCP, I served in a number of communication roles, including with the Job Family Project, the Center for Leadership Excellence, and the Ufirst project.
Is there one project you have been working on that you're most proud of that directly benefited the UVA community?
Building and growing Embark. Embark is not only a great asset for spouses and partners of UVA employees, but it is also a great partnership between the University and the community.
What is the most challenging part of your job? 
Finding a job doesn't happen immediately. Patience and perseverance are required to be effective. Our most successful participants invest time researching opportunities, preparing tailored materials, applying and preparing to interview.
What is the most rewarding part?
The most rewarding part of my job comes with meeting new people every day and making strong connections with the community. Seeing partners and spouses be successful in their job search and finding a role that is a good fit for them is incredibly rewarding. 
Here's an example of one of our Dual Career couples (from Anne Afriyie):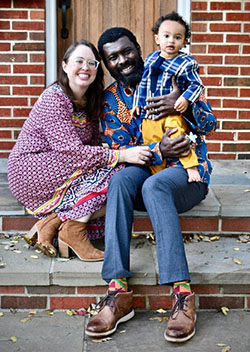 'My husband [Prince Afriyie] took a position as Assistant Professor in the Department of Statistics, and I was eager to join him on Grounds in a professional capacity. I utilized the Dual Career website and submitted an interest form as a faculty partner as well as perused their large offerings of community resources to look at housing, activities, and to get an overall vibe of the area. My form was answered promptly, and I was reached out to by Carolyn Kalantari and Heather Newton. They both gave me invaluable support and advice. Heather worked with me one-on-one in a number of ways: resume editing, liaising with other departments, and making sure I was fully prepared to join the UVA community. [Anne accepted a position as Assistant Director for Career Development with the McIntire School of Commerce.]
 
After being a part of many university communities as a student and faculty partner, I can say that the Dual Career office is unique and the most committed group I have ever seen to recruitment and retention. The Dual Career office positively impacts recruitment by creating bridges to jobs, resources, and providing a warm welcome to UVA. We would likely not be working here as the dynamic UVA duo if it weren't for Heather and Carolyn. Once we made it all the way from California, we were invited to a welcome brunch to meet other dual career partners. We also got to meet Carolyn and Heather, which was like meeting old friends! The welcome event itself actually introduced us to some of our best friends in the area. I recommend this service to everyone I know because the positive impact of the Dual Career folks is/was certainly felt in our family.'
How has the COVID outbreak impacted your and your team's work this year?
- Major changes in the job market: During the initial months of the pandemic, the job market was very uncertain. With very few jobs posting, we focused on helping participants to best position themselves for roles when the job market opened up again. 
- Inability to visit Charlottesville: Many couples were unable to visit Charlottesville prior to relocation. We relied on Embark and Zoom meetings to help them understand the community before moving, sight unseen, to central Virginia.
- Easier Networking: One positive is that once everything went virtual, it was much easier to facilitate networking opportunities! Participants are more comfortable with video conferencing technology for one-on-one calls. 
What are some takeaways you would love your UVA colleagues to know about the Dual Career Program?
We're here to help with recruitment and retention efforts! We start working with spouses and partners of prospective hires as early as on-Grounds interviews begin. We offer a range of services, helping partners and spouses to:
Understand our local job market and where they may be most marketable
Learn how to refine application materials
Discover connections with employers, in and outside of UVA
Please visit the DCP website to make a referral and to learn more about services.
For current staff, check out the Career Tools webpage to support your career development journey within the University.