Meet Jon Williams, HR Solution Center Inquiry Team
---
The HR Solution Center (HRSC) serves as a one-stop, comprehensive resource for human resource needs across the University of Virginia. The HRSC provides HR information and solutions while striving to deliver an exceptional experience for faculty, staff, team members, and management.
We asked one of the Inquiry Team's members (there are 10 full-time and 4 temporary staff members), Jon Williams to take a little time out of his busy day to tell us about his work and how a typical day goes … well, we learned there is no typical day!
Q: Tell us about yourself, Jon.
I came to UVA from a recruiting background 15 years ago,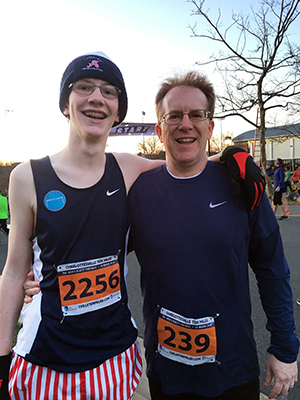 having recruited for key positions at SAIC and Northrop Grumman as a Senior Recruiter and Recruiting Manager.  I began my career at UVA as a Senior Executive Recruiter with the Executive Search Group. I found my stride at the HRSC, however, and have been working on the Inquiry Team for almost 11 years. The work is not for everyone – it can be very rewarding, but also very challenging at times.
I'm happily married, and my wife Beth works at the Curry School of Education. One of our two sons attends Virginia Tech and is majoring in Mechanical Engineering, and our other son (pictured) is a senior at Albemarle High School and will be attending UVA in the fall. Because I'm active in the community and have family connections in Charlottesville, sometimes the calls coming in to the HRSC may be a neighbor or someone I know personally. That always changes the tone of the conversation when they realize who I am – both a colleague, a neighbor, and a friend who will help them with their problem. I love that!
Q: How do you and your colleagues prepare yourselves for the Inquiry Team work?
I come in with a good mindset every morning, I keep myself healthy, and I don't allow myself to get run down. I work hard to keep up my enthusiasm for excellent customer service every day, and our team works extremely hard, which keeps me motivated. I am passionate about producing great quality service and I thrive when my customer satisfaction ratings reflect that passion.
I also have a very compassionate and supportive manager (Christian Deck), and our team is stronger now than ever before during my time here in HRSC. We have some very intelligent, driven employees who offer a wide variety of professional backgrounds, from training to records and recruiting. We bring a breadth of experience and knowledge to the team, as well as different personalities, but we work very well together.
Q: How has the work changed over the past decade for the Inquiry Team?
The HR Service Center came into place in September 2009, led by Erica Wheat (who currently leads the HR Benefits and Leave team). We had six team members then, and only answered human resources calls. Now we answer everything, including technical questions on Workday. We've learned to be agile with the increased demand for expertise on many fronts.
The HRSC has morphed into a huge resource center for our customers. I remember not long ago we used to manually track our calls on paper; now we have Salesforce that allows detailed case management, reporting and metrics, and a fantastic knowledge base to build and pull information from. The new phone system and voice media (routing system, call tree options) also has improved our service model significantly.
 Q: What are some of the challenges of the work you do as Inquiry Team representatives?
We do our very best to manage everyone's expectations about what good service means. Some measurements of quality service are more obvious than others. I think we could all agree that providing accurate information, with friendliness and in a timely fashion is key to a great customer experience
Our colleagues don't like to wait, and often abandon their call if they are made to wait more than 15 seconds. We have an average wait time of 1:30 (longer during Open Enrollment), though sometimes we can offer an immediate response. We get that everyone's busy and may have extremely limited time on the phone while working at the hospital, for example, but we get to everyone as quickly as we can.
Q: What are some takeaways you would love your UVA colleagues to know about the Inquiry Team in HR?
We're your colleagues, your neighbors. We work at UVA, on Grounds, and we're highly involved in your community, in your churches, and in your volunteer activities. We're here to help you and we work very hard to solve your problems as quickly as possible. Some of us have been here for decades, some are new
There's a lot of cross-team collaboration across all of HR that enables us to share accurate information with our employees. Human resources is complicated here at UVA! There are so many different staff types -- professors, doctors, nurses, Facilities Management crews, wage/temp employees, Health System staff, and UPG employees. The benefits for each staff type is often different and benefits answers vary for all of them. We work with a large team of human resources experts to get the answers to you as quickly as possible.
We appreciate our customers, our colleagues, and we appreciate that they trust us to find a solution for them. They call because they know we can provide a clear, concise answer. A very large portion of HR work and volume flows into the HR Solution Center, via the Inquiry team. We take a lot of pride in still being able to provide that all important one-to-one customer experience to our employees and community.