How Your HR Leave Team Acts as Investigators
---
The HR Leave Team manages the day-to-day requests for leave that come in from UVA's vendors, UNUM and The Reed Group, as well as requests from managers, HR Business Partners, and directly from employees. In addition, the team advises on over 20 different leave or time-off options, including four distinct paid time-off plans. The work requires system knowledge of the Workday system, including payroll functions, as well as Salesforce case management, and multiple legacy systems.
We caught up with Tracy Durham, HR Leave Specialist, to learn more about her role in contributing to UVA's success. Here's what we learned.
Please tell us about yourself and your work with the Benefits and Leave team.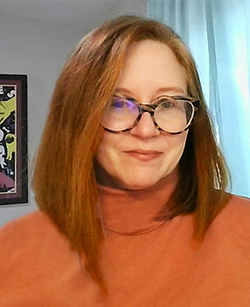 I am currently a Senior HR Benefits and Leave Representative on the Benefits and Leave team. Prior to joining UVA HR in 2017, I worked for twenty years in the insurance industry, which greatly informed my understanding of policy language and how the precise nature of that language can impact implementation, especially when it comes to leave policies.
The Leave team formed within HR at about the time I started working at UVA; our team has grown so much since that time, and we've formed a wonderful bond over the years. Each member of the team brings their own strengths to the team and is dedicated to serving our customers -- you! Given the volume and complexity of our work, I value ways to improve our processes and resources, and have been fortunate to be able to directly contribute to those improvements. 
A little about me personally: I have a cat whom I adore, Zoey, pictured here engaged in one of her favorite pastimes of ripping up boxes. She definitely makes the day brighter! In addition, I have a love of music and my latest favorite band is Dawes. Their lyrics are fantastic, and their sound is ever evolving.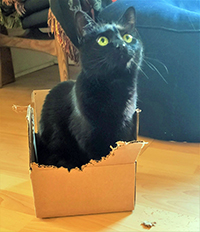 Is there one project you have been working on that you're most proud of that directly benefited the UVA community?
Our team has worked with other HR and payroll colleagues to develop multiple projects behind the scenes to ensure employees on leave receive the correct pay, to ensure that time-off accruals function properly, and to create new resources to assist with self-service options. The most recent project I'm very proud of is close to being finalized and it's something I've been passionate about for some time. We're preparing to launch a new section of the UVA HR website that brings together the leave and benefit options for new parents, all under one location. 
A big part of our leave of absence management includes guiding new parents on the various options for recovery after childbirth as well as bonding time with new members of their family. Given the current way this information is distributed across the website, it can be difficult to navigate the time-off options and the benefits available to new parents. We're really hoping this new webpage will provide better access for expectant parents to the benefits available to them at UVA.
What is the most challenging part of your job? 
One of the most challenging aspects of this role is the high volume of leave requests coupled with a still highly manual system functionality in some areas. We are addressing these challenges by outsourcing some of the leave management to UNUM, and by working on those new projects mentioned above to find a way to automate the pay and leave functionality in Workday. While we are working to understand how best to utilize some of the available automated systems into our processes, we have found that manual oversight is still important to ensure there are no negative impacts on an employees' pay or benefits from leave processing. 
What is the most rewarding part?
The most rewarding part of my job is to be able to assist employees who are enduring difficult times and ensure their access to the various leave options as well as continuity of pay, whenever possible. It can be challenging for an employee to navigate the options available and to communicate to all relevant parties at a time when they are not feeling their best. Therefore, we're working hard to update and revise our resources so that the employee can focus on their individual or family's health needs. 
How has the COVID outbreak impacted your and your team's work this year?
COVID has been a challenge for every organization. When we added our new leave management vendor, UNUM, to take on some of the day-to-day leave tasks, we thought we may finally have the capacity to address the deeper needs of resource development and better response times. COVID had other plans. For our team specifically, we had to pivot to include managing ever-changing new time-off options by division. We also supported furloughs due to the Medical Center shutdown of many medical procedures, and have continued to notify departments with positive employee COVID cases about the leave options available to their team members. 
What are some takeaways you would love your UVA colleagues to know about your work?
Our work is highly transactional, but it also often requires us to act as investigators. This can include lengthy internal HR discussions about how to perform transactions that are not at the forefront of our daily work, how to interpret an obscure policy or procedure, or even who is the best colleague on another team to discuss a particular matter with. We strive to share and store that information to allow for continuity, and to build on a foundation for future work. 
When you reach out to our team, we hope that our great work comes through. We strongly believe in the UVA HR Foundations principles of expertise, innovation, people focus, as well as exceptional execution.