Myron Ballard, Finance Project Associate
---
Myron Ballard, a graduate of UVA's School of Anthropology, began his career at UVA as a temp with UVA Printing and Copying Services, then moved into a full-time position as Program Coordinator with the Biology Department, Administrative Assistant in the School of Engineering, and most recently as Project Associate with UVA Finance while he works towards his Project Management Professional (PMP) license. In his decade+ with UVA, he has been one of the top 10 nominees for the inaugural UVA "Hoos Making an Impact" competition (proposing a Project Management Sustainability Leadership Program), and worked with Staff Senators from across Grounds to improve flexwork/remote work for staff. Myron is passionate about what project management can contribute to any team's success, and he speaks about his transition to this role and how others can do the same.
What do you love about what you do?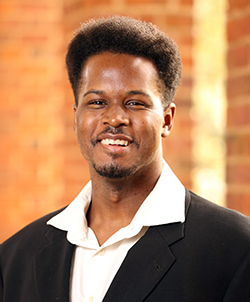 Putting out fires, building bridges, and being a champion of positive change are my top responsibilities and my deepest passions at UVA Finance. Project managers make your (work) dreams come true, so to speak. They identify challenges that an organization faces and create projects to resolve those challenges. For example, one of my projects is to create a system that automatically updates and shares my team's ever-evolving action items so all of Finance can view them. In short -- less emails and meetings about who's doing what and why! Also, we do our best to incorporate the organization's values and visions into the project development process because we believe the process for completing the project is as important as what's produced. If DEI is of paramount importance to an organization, for example, we find ways to instill DEI principles and values into the project process.
Why is project management important and why should anyone care? We all think and talk about ways to make our work lives more enjoyable and fulfilling. Some of us want to get rid of paper documents and use smart digital forms such as DocuSign. Others want to create Standard Operating Procedures (SOPs) to make workflow processes clear and transparent. All of these are projects and require a project management mindset to successfully complete. 
However, there are many steps involved when it comes to successfully running and closing a project. More complex projects can involve multiple people. This is where communication and relationship building or stakeholder management becomes very important in project management. The best project managers know how to engage with stakeholders who will be impacted by the project. Unlike other positions, the project manager must have an awareness of how a project affects the lives of those within the organization. This means the project manager should have a broad view of how the project will affect executive leadership, middle management, admins, faculty, the students, and any group who is affected by the changes the project will bring about. So, it's vital for stakeholders to know that a project team is responsible for caring about their needs and expectations. Stakeholders should engage with the project team, ask questions, and provide feedback.
What are you working on that you're most proud of that directly benefits the UVA community? 
One major project I'm currently working on with project managers within and outside of Finance is to develop a smart knowledge system that archives UVA's institutional knowledge and improves our ability to create successful projects. I'm sure many have experienced the situation of entering a new position and not having a clue about how to do the job properly, or being unaware of expectations by faculty, students, and other staff concerning your role. The lack of documented institutional knowledge can be challenging to new employees and slow down getting up to speed in a new position, and our new system aims to mitigate those challenges.
UVA Finance uses a sophisticated cloud system called Salesforce to capture knowledge, but it also lets the user know what knowledge to use whenever an issue is submitted into the Salesforce system. This means that if I receive or submit a query via Salesforce, the system accesses a reservoir of knowledge and provides articles that can resolve the submitted query. Once we complete this project of creating knowledge structures in the Salesforce system, Finance will be able to show the UVA community how to use the system to better obtain, develop, and share knowledge across the institution.
How does your work align with your values or principles?
Because I love to help people and nurture their ideas, I spend much of my time listening. Specifically, I listen to my colleagues' hopes and dreams and think about how we can better their work lives; then I collaborate with them to generate solutions that make their work lives more manageable. I love the idea that bringing a smile to someone's face or helping someone realize their vision is an actual job! :-) I see project management as a very creative process, much like the art that I do as a hobby (pictured above). First, you come up with an idea, then build a plan, then put the paintbrush on the canvas and see your imagination come to life. While I haven't had the opportunity to use a paintbrush in my actual job in Finance, I believe project management and painting share similar principles. Most importantly, being a project manager also means being a champion of someone's vision. I also liken it to being a parent. One gives birth to a great idea and it's my job to nurture and raise up that idea until it matures and produces positive results in the form of a project. Sometimes that means a project manger must fiercely defend good ideas like a scary parent protecting their child. As a champion of positive change and growth, I've learned that project management is a perfect fit for me.

What is the most challenging part of your job?
The most challenging part of my job is determining the best time to carry out a project. Right now, Finance is focused on budget development, which makes it's challenging to acquire the same level of project feedback from my teammates as I was able to before we entered this phase of the budgeting season. Budget development is an example of a "competing priorities situation." What I've learned from this challenge is the importance of keeping a calendar of key deadlines so that I'm aware of when my teammates are going to be at their busiest.
What about the most rewarding part?
While I do find helping people to be the most rewarding part of my job, I would also point out that learning new things and documenting this knowledge is thoroughly enjoyable. As a writer, I love writing regardless of genre. Moreover, the idea that the knowledge I record will later be used to make someone's life easier is astonishing. I love the idea of leaving a legacy behind for others to build on. I find that project management allows me to care for others, such as the next generation when it comes to knowledge building. Even if I won't ever meet some of them, I know that what I leave behind will benefit them.
What are some takeaways you would love your UVA colleagues to know about the work you do?
A big takeaway that everyone at UVA should be aware of is that everyone uses project management skills to do their work, even if they're not a project manager. Planning out an event is project management. Resolving team conflict is another aspect of project management. Predicting risks or exercising any sort of risk management is yet another element of project management. Project management is really taking an idea in your head and carrying out the necessary steps to make that idea a reality. My hope is that as I build knowledge on project management at UVA, my colleagues will make use of that knowledge to not only better their work life, but their personal life too. I'm constantly building to-do lists and thinking of ways to improve how I do my cooking or chores at home. These are examples of project management thinking.
Lastly, I started out as an Administrative Assistant and then jumped into project management. I want my colleagues to know they can do the same if they choose to become a project manager. If I can do it, so can you! UVA HR is working on a Career Journeys project that will map out how to make the transition from your current job to a different role, so look for that soon. In the meantime, feel free to reach out to me if you'd like to know more about project management or my transition into this role. Thanks for reading!