We Help Make Workday Work for You
---
People Data & Technology (more commonly called the Workday team) is responsible for front-line product management of Workday modules. This includes reviewing upcoming Workday functional releases, developing testing for these new functions to ensure the changes will work well at UVA, and implementing the adoption of the new functionalities as they are released. The team also documents new business requests from the Medical Center, UPG, Finance and HR to improve functionality and eliminate workarounds, and presents these requests to the Workday Governance Groups for consideration and prioritization.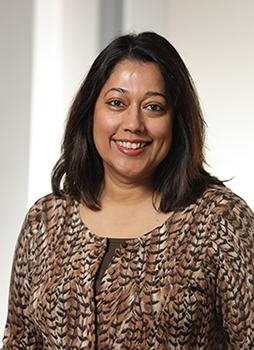 We caught up with Tanya Rahman, Senior Project Manager for People Data & Technology, to learn more about her role in contributing to UVA's success. Here's what we learned.
Please tell us about yourself and the Workday team.
In my role as Sr. Project Manager for the Workday team, I help develop our overall multi-year roadmap for Workday, and lead new Workday feature release testing and implementation as well as other Workday-related projects. With certifications as a Quality Black Belt, Agile Scrum Master, and Proci Change Manager, I find GROWTH and COLLABORATION to be two core values that excite me. I love new challenges and helping my colleagues achieve organizational goals. My work helps UVA employees' work lives become easier through enhanced functionality in Workday.
Is there one project you have been working on that you're most proud of that directly benefited the UVA community?
There have been several projects this year that have been important for the UVA community. One project I led was the creation of the Employee Assistance Fund (EAF), which serves as a resource for UVA employees who experience a financial hardship due to an unexpected and non-recurring need. Working with Advancement, Finance, and HR leadership, we created an option to make ongoing donations through Workday/Payroll and one-time donations through the EAF website. We automated a tax deduction verification email that was sent to the donor, and set up reports for Finance to track donations. We then set up the workflow for grants to be deposited directly into recipient employees' payroll checks, and for taxes to be withheld on the grants.
Another example is the new benefits tiles functionality in Workday, which gives our employees a more user-friendly interface for their benefits election process. A third is improving the Clinician 1 recruiting process for newly graduated nurses. All of these projects require interface with Workday, and I help to streamline that process.
What is the most challenging part of your job? 
Navigating organizations outside of HR can sometimes be challenging, particularly when looking for the right players and understanding processes, priorities, and challenges outside of HR. However, we end up with some great collaborations once these challenges are resolved!
Also, making sure we're focused on the right priorities is always a challenge, since there are many requests for our services. Setting the right priorities helps our team stay focused and deliver high-quality solutions in a timely manner. The Workday team and the Governance teams prioritize requests using the following model:

What is the most rewarding part?
When I hear my colleagues across Grounds saying their work has become easier due to a project I was a part of, that makes me happy! We had so many positive comments about the new benefits tiles functionality in Workday, for example, and I'm delighted to hear that the Open Enrollment process was easier for many employees as a result. That makes my day!
How has the COVID outbreak impacted your and your team's work this year?
Our team easily shifted to remote work. We got creative about connecting through Teams and Zoom sessions. Our team has been mostly happy with remote work. We have been discussing meeting on-site for deliberate collaborating opportunities soon. We are also meeting monthly at local venues to socially connect as a team.
What are some takeaways you would love your UVA colleagues to know about Workday projects?
Please visit the HR Workday Central webpage regularly to read new Workday-related announcements, quarterly updates and release information, and Workday downtime information. You can also request Workday related changes from the Workday Central site or by sending an email to AskHR@virginia.edu. All requests get evaluated and prioritized at our monthly governance meetings. We are here to make your work life easier!