Being a Citizen Leader is Volunteering
---
An interview with Aubrey O'Hara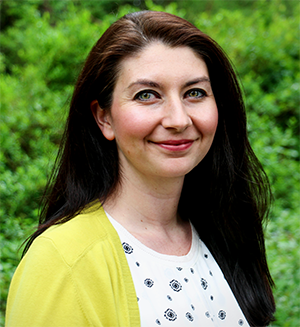 Aubrey O'Hara is the Assistant Director of Marketing and Communications for UVA Career Center, where she informs and connects students with the Career Center's amazing resources, including online resources, one-on-one counseling, events, and career fairs. Her teams helps students find a direction that is transformative to them and their UVA experience. The Career Center's mission is to help students create a meaningful life, and she feels the staff also needs a meaningful life and to feel engaged with the UVA and greater Charlottesville community. We asked her about how her volunteer experience has contributed to creating a more meaningful life.
What organizations have you volunteered for and what kind of work did you do for them?
When I came to UVA, I realized I had volunteer hours I could use to make an impact in the community. I volunteered to serve as Development Chair on the board for Wild Virginia, a grassroots organization that focuses on protecting Virginia's forests. I also joined the board of the Emergency Food Network as Outreach Chair. The Emergency Food Network is a local nonprofit that provides food to anyone who needs it, no questions asked. People think you may need a lifetime's worth of experience to join a board, but I think what organizations like these really need are people who are passionate, willing to learn, and willing to listen. That's why I think that members of the UVA community would be amazing for board service, and their connections with UVA really helps the boards since UVA is a big influence on and contributor to the Charlottesville community.
I discovered the board positions from the Center for Nonprofit Excellence's website. Sitting down for a board interview is like a job interview in that you get a chance to decide whether the position is a good fit for you. The time commitment of a board position ebbs and flows, and the work can be more intense if there's a special event around the corner. I worked between 6 and 12 hours each month and mostly in the evenings.
Tell me about the experience of volunteering alongside your Career Center coworkers.
We had a team meeting in the days immediately after August 11th and 12th 2017, and we went back and forth about how we could make a difference as a team. I asked, why don't we just get out there in the community and start using our paid service hours? I think for some reason employees feel afraid or discouraged from using their paid service leave, so by saying it out loud and organizing things, I think it helped normalize it in our office.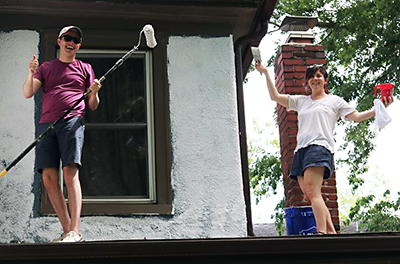 We asked the United Way where our help was needed, and they suggested that we volunteer at the Goodwill on Cherry Avenue. We helped sort through donations for four hours, which they said saved them literally weeks' worth of work. With so many donations coming in from UVA students, it felt like we were helping to close the loop! The second volunteer day was through Albemarle Housing Improvement Program. Our team painted a whole house in Belmont, and that was a really cool experience. When you work outside along your coworkers, you get to have good conversations and create bonds. It was therapeutic. Another great takeaway from this experience was that people are very willing to volunteer in their specific way, thinking "I'm good at this, I'm going to help you with this." Instead, I found asking, "How can I help you with what you're already working on?" to create a much richer relationship with the organization and with my colleagues.
Do you think your volunteer organizing within the Career Center has helped your colleagues to get involved?
I do think it has. Once you step forward and say you're doing volunteer work, the word can spread, and others can look to you if they have questions. In addition to volunteering, I have also helped to promote giving through the Commonwealth Virginia Campaign among our staff. Giving through the CVC is another way to make an impact, and it may plant the seed someone needs to begin volunteering once they are able. As an adult, volunteering comes purely from the heart; you don't need it for your resume! I don't think there's anything better you can do as a good citizen in this day and age than to volunteer your time. That's what I love about Jim Ryan's "Good and Great" sentiment, because being a citizen leader, to me, is volunteering. It's voting. It's cleaning up after yourself. It's just this good old school version of what we want America to be.
---
Want to learn more about volunteering?
Visit the UVA Volunteer Center webpage, which lists volunteer opportunities, community-based organizations and initiatives, donation requests, and resources for employees interested in addressing structural racism.
Watch the recent FEAP presentation, "Do Good, Feel Good" and learn more about the joys of volunteering.