Managing Risk is an Accomplishment
---
Angela Durrett has worked in the Human Resources field for ten years, most recently as a Project Manager on HR's Continuous Improvement and Project Management team. The team's call to courage is to be brave in modeling behavior that shows managing risk is an accomplishment and asking for help is a sign of courage. We thought you might like to know more! And here's what we learned.
Please tell us about yourself.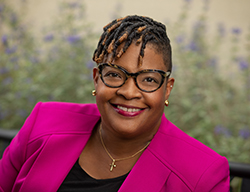 The Continuous Improvement and Project Management (CIPM) team aims to foster and support an organizational culture of problem solving, continuous improvement, and project management to deliver results and ensure greater accountability and consistency. In my role as Project Manager, I am able to lean into one of the HR pillars, "People-Focused," not only at UVA but also in the community. In addition to my work leading teams within HR to their successful completion of projects, I am also an active member of the Project Management Institute, a speaker for the Black is Tech conference and the Center for Nonprofit Excellence, and am a former Director of Administration for the Project Management Institute, Central Virginia Chapter where I led several volunteer community projects.
Can you speak about one project you're most proud of that directed benefited the UVA community?
Workday Digital Assist is a digital platform that provides real-time guidance for business processes in Workday; it "walks" users through Workday processes. During its two-year implementation period, the awesome team I led launched Workday Digital Assist to over 18,000 UVA Workday users and published 300+ tool tips, guided walk-throughs, and other just-in-time solutions to assist with 9 complex Workday business processes and 19 employee self-service processes.
Since Workday Digital Assist has transitioned to operations, I continue to be the Workday Digital Assist Project Manager, focusing on governance and process.
Please visit the Workday Digital Assist webpage to become more familiar with Workday Digital Assist and all that it has to offer the UVA community.
Please explain how you partner with HR groups to maximize success for those teams.
One of our team's goals is to always listen and dig deeper. We know that not all HR groups work the same way, so we modify our approach with each group. We ensure the right people are in the room to ask "why." And sometimes we have to challenge teams to understand the root cause, the end-to-end process between and across teams, and to agree on the end goal. Our success is defined by how we have helped others do their jobs better.
What values do you hold dear, and how do those values tie in with the HR values of trusting in people, acting courageously, getting creative, and seeing things through?
I hold the values of integrity and courage most dear - step out on faith. A wise project manager once told me, "You don't have to be the subject matter expert of the project you are leading." This reminded me that I have to be vulnerable and courageous when starting a new project.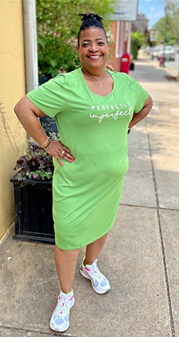 What is the most challenging part of your job? 
Introducing/ navigating a project team through the CIPM project life cycle can be tricky at times since this is a new concept for some (see illustration below). And of course, detaching myself from a large, impactful project once it's over, especially if we've implemented a new tool. I'm always wondering how it's doing, if it's working the way we expected it to.
What about the most rewarding part?
I am most happy when I am a part of a team that has implemented cutting edge technology that has helped my colleagues across Grounds, whether it be Workday Digital Assist, CavBot, or some other form of technology. 
What are some takeaways you would love your UVA colleagues to know about the work you do?
Project management is NOT always taking meeting notes or facilitating a meeting.
We lead diverse teams, manage the project team member assigned to project tasks. We ensure all deadlines are met and ultimately that projects are completed. 
This is not a job for me; this is my passion and I love doing it!
HR CIPM Project Lifecycle