"Let go of your perception of what volunteering means..."
---
An interview with Ann Lawrence Grasty, University Advancement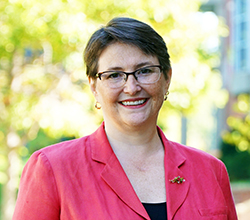 Ann Lawrence Grasty is the Director for University Annual Giving at UVA. She helps people learn how they can engage with the University philanthropically, no matter where they want to give or how much they want to donate.
We caught up recently with Ann Lawrence to ask about her volunteer work in the community. It was quite inspiring! Read on …
What organizations do you volunteer for, and what kind of work do you do for them?
Some of the organizations I've done work with are the Virginia Institute of Autism, where I have helped with their 5K and gala event and served as a member of their community advisory board and advancement committee. I work with St. Paul's Memorial Church at the University of Virginia, assisting with the children's ministry. I also give blood. Folks looking for a very short commitment should be reminded that giving blood is volunteering and especially important in this day and age. I try to be helpful to my younger child's school, Hollymead Elementary. I do not have a formal role, but I have pitched in there.
Why do you volunteer?
When I think about volunteering, for example, for the Virginia Institute of Autism, I see it as my small way of trying to give back just a fraction of what our family has received from VIA. I feel lucky that I get to be a part of the Charlottesville community that has so much to give. I volunteer so I can give something small back to the community that has given me so much.
How did you become involved with these organizations and begin volunteering?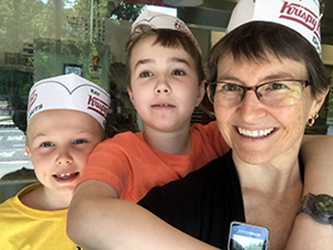 My elder child has autism, so that was my entrée to the Virginia Institute of Autism. My children and I are members of St. Paul's Memorial Church. Everybody's got time and talent. If you're already involved with an organization, are there ways to deepen that involvement? Or can you look at the work you do, combined with the interests you have, and share your expertise with non-profits that may not have that kind of expertise in house?
I also encourage my team to participate in volunteer work together on the Day of Caring and to take opportunities to learn more about new non-profits in town through team-building events. For example, before COVID-19, our University Annual Giving team had a team-building event where we all worked at Loaves & Fishes one afternoon.
Philanthropy means the love of humanity. I believe philanthropy is about how you live your life, not only how much money you have to give. The volunteers I know really enjoy it and get more out of volunteering than they feel like they're giving.
Have you ever encountered any obstacles to volunteering, and do you have any advice for those who may be encountering them now?
I don't volunteer nearly as much as I would like to, but what I would say is: let go of your perception of what volunteering means. I think many people have this perception of volunteering as this long term, multi-week, multi-year commitment that may also require giving money. But there are so many ways you can put your time and talent to use, some of which means you never even have to leave the house. Help coordinate a youth basketball team's calendar or create a signup for a food pantry.
Let go of your perceptions of how much volunteering will take out of you, and instead look for ways just to get your feet wet. The good feeling you have when volunteering is addicting! So, if you can find a way to dip your toe in the water − those short commitments are available − you'll find that you can build from there.
---
Want to learn more about volunteering?
Visit the UVA Volunteer Center webpage, which lists volunteer opportunities, community-based organizations and initiatives, donation requests, and resources for employees interested in addressing structural racism.
Watch the recent FEAP presentation, "Do Good, Feel Good" and learn more about the joys of volunteering.