Mindful Leadership Training
---
Mindful leadership is crucial in these uncertain times. It is based on developing self-awareness and cultivating self-regulation skills, in order to be able to lead others most effectively.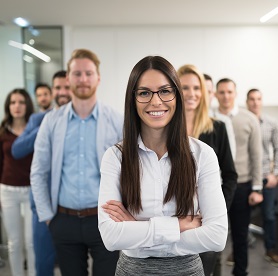 Being a mindful leader also requires understanding others' perspectives, communicating effectively, and inspiring others. COVID-19 and recent social unrest have turned the world upside down leading to heightened uncertainty, angst, and financial stress. Leaders are needed now more than ever to navigate our workforce through COVID-19 and the next normal.
Hoos Well has partnered with the UVA Mindfulness Center and eMindful (the provider of eM Life, UVA's online mindfulness platform) to offer, at no cost to participants, a two-part Mindful Leadership Skills Training program to leaders and aspiring leaders at UVA.
Part One: Virtual, Introductory-level Mindful Leadership Program 
8 weekly, 45-minute interactive webinars, exclusive to UVA
Led by an eMindful expert teacher
Goal: Introduce mindfulness and its pertinence to well-being, team culture, performance, and UVA leadership competencies. Read the curriculum.
The next Mindful Leadership Program will be held on Wednesdays at 4:00 PM from August 3 - September 21, 2022.
This program is held in eM Life, a mindfulness platform to which Hoos Well provides free access for enrollees on the UVA Health Plan or UPG Anthem Health Plan.
To register, log into or create your eM Life account and type "Mindful Leadership for UVA" into the search bar. (You must already be logged in to eM Life to view and register for the program.)
Part Two: Advanced Mindful Leadership Training course
Led by Dr. John Schorling, Director of the UVA Mindfulness Center
Follows the format of the MBSR curriculum: 8 weekly, 2-hour sessions, plus a half-day retreat. 
This course is held twice each year. The next course will be held from 4 - 6 PM on Wednesdays, from October 12 - December 7, 2022. (Note: there will be no session on November 23).
Ways to cultivate key Emotional Intelligence domains and competencies are presented throughout the course
Each session addresses specific UVA leadership competencies that are based on the Korn Ferry Leadership Architect™ framework. Read the curriculum below.
Click the link below to apply for the next cohort. Enrollment is limited to 30.
There is no cost to participants, but there is a prerequisite for matriculation:

Participation in at least 6 of the 8 weekly sessions of the Mindful Leadership Program  (live participation is required for at least 3 of these sessions), OR
Prior completion of a MBSR-based course provided by the UVA Mindfulness Center, OR
Prior completion of an academic course or comparable program on mindfulness (minimum 8-week duration).
To register for Part 1, log in to eM Life and type "Mindful Leadership for UVA" in the search bar
Apply for the next Advanced Mindful Leadership Training course (Part 2), beginning October 12, 2022