Hoos Choice Nutrition Program
---
Hoos Choice is a point-of-choice nutrition program that facilitates and encourages healthy food choices across the University of Virginia.
Hoos Choice has recently rolled out a healthy and convenient boxed lunch option for catering through through UVA Catering and Medical Center Catering, and for retail purchase in both Medical Center cafes.
The boxed lunch includes a rotating selection of delicious sandwiches and wraps, rounded out with Greek yogurt and fruit. You'll see options like a chicken and guacamole wrap, honey dijon chicken wrap, and vegan and vegetarian options such as a mediterranean veggie wrap.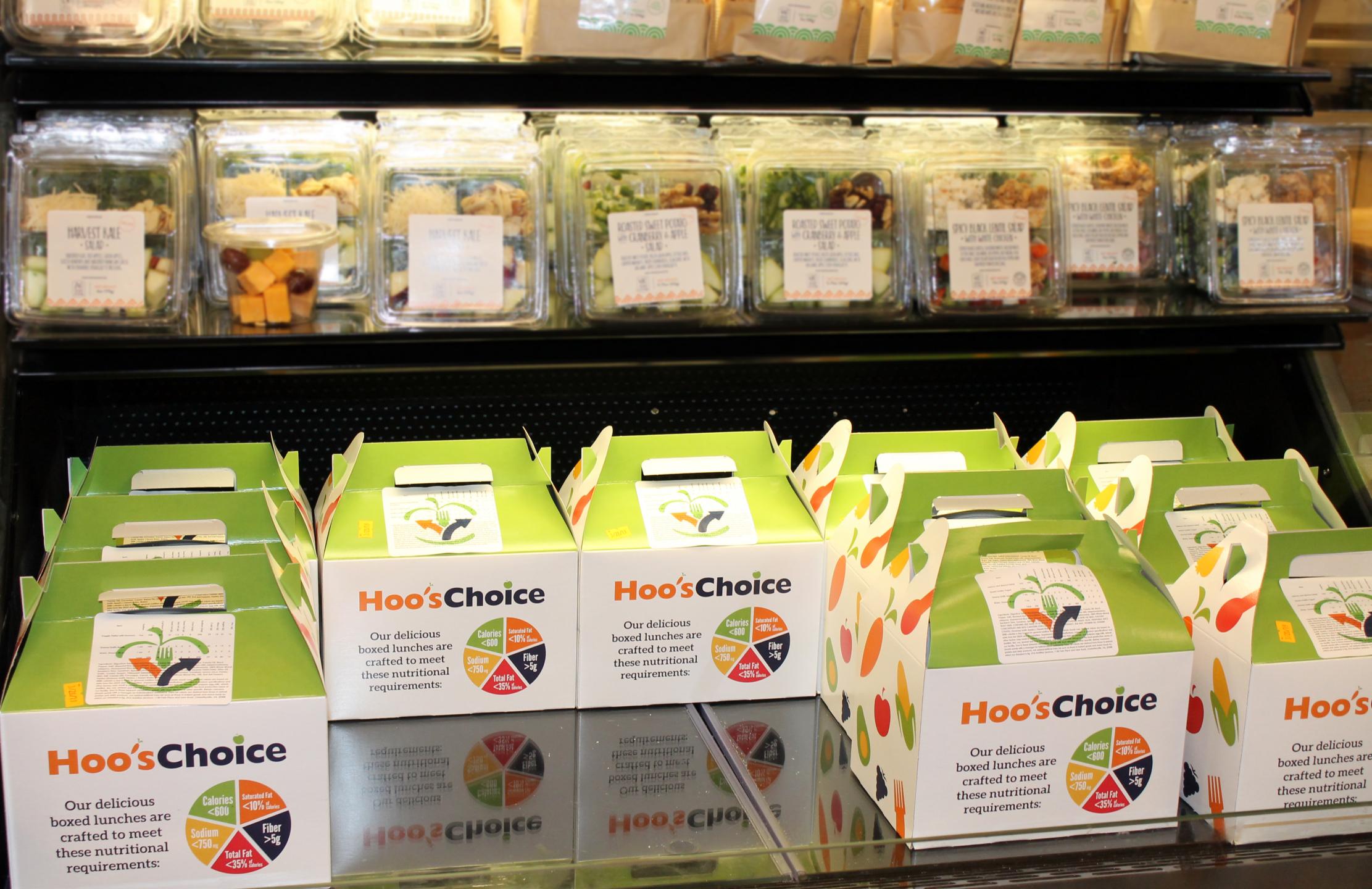 Each Hoos Choice meal must meet certain criteria which are derived from well-established scientific evidence about nutrient levels and their influence on chronic disease prevention.
Criteria for each Hoos Choice meal:
600 kilocalories or less
Total fat constitutes no more than 35% of total calories
Saturated fat constitutes no more than 10% of total calories
5 grams or more of dietary fiber 
All Hoos Choice boxes are made of recyclable material.
A home-grown, evidence-based program
Hoos Choice is the product of a collaboration among Hoos Well, ARAMARK, Morrison and UVA dietitians to address the main barriers to healthy eating at work[1]: cost, convenience, time constraints and limited availability of affordable, healthy food. It supports well-being goals that UVA employees have articulated; the most popular health-related goals and areas of greatest readiness to change among UVA employees are improving dietary habits.[2]
References
[1] A. Pridgeon and K. Whitehead, "A qualitative study to investigate the drivers and barriers to healthy eating in two public sector workplaces," J. Hum. Nutr. Diet., vol. 26, no. 1, pp. 85–95.
[2] Active Health Management, "Active Wellness Solution Report: October 1, 2016 - September 30, 2017." 21-Oct-2017.