How to Flourish in Your Personal and Work Lives
---
The UVA Hoos Well team works to improve the lives of faculty, staff, team members, and their families by supporting them to remain well and empowering those with health risks or chronic conditions to improve their health.
We caught up with Matt Fritts, Well-Being Specialist, to learn more about his role in contributing to UVA's wellness. Here's what we learned.
Please tell us about yourself and your work with the Hoos Well team.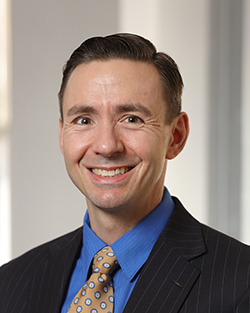 For the past 3 years I've had the privilege and honor to work with Hoos Well, your award-winning employee well-being program. As a UVA alumnus, Echols scholar, and former Lawn resident, I feel great pride and gratitude for the opportunity to give back to my Alma Mater by helping foster a culture of well-being at UVA and contributing to the health and happiness of the UVA employee community.
In addition to working with the amazing Hoos Well team, I host a "Piano Forte" radio program, Thursdays at 7 pm on WTJU 91.1 FM, UVA's community radio station. And I've been teaching yoga for over 25 years, including 2 weekly classes with UVA IM-Rec Sports that are free to all UVA employees and spouses.
Is there one project you have been working on that you're most proud of that directly benefited the UVA community?
I'm most proud of the Mindful Leadership Training programs that I've developed in collaboration with the UVA Mindfulness Center, UVA HR's Learning and Development team, and eMindful. Equipping and engaging UVA leaders to model and prioritize psychological self-care is essential for empowering employees to take care of their mental health and for achieving the cultural shift toward well-being that Hoos Well seeks to foster.  
What is the most challenging part of your job? 
The most challenging part of my job has been designing and running a current research study that is comparing the effectiveness of two of Hoos Well's virtual mental skills training programs (the eM Life online mindfulness platform and Healthy Minds @Work) in improving individual and organizational well-being. Although I previously worked at NIH for 4 years, this complex study has really challenged my clinical research skills! Sincere thanks to the 750+ UVA employees and spouses who have enrolled in this study, which may benefit UVA and the larger scientific community by helping to determine the elements and format of virtual psychological skills training programs that are most likely to support individual and organizational well-being.